Polish Lamb Cake – Also called Agnuszek or Branek Welkanocny
Lamb cake is a Polish Easter tradition. The most important part of making a lamb cake, is having a mold. I can't seem to find the mold Mom gave me years ago, but did find a replacement on the internet. It's not the same though, seems to me like the lamb has a silly grin, which doesn't help since I plan on eating him.
Ingredients
2 eggs
4 oz butter
6 oz whole milk
9 oz sugar
16 oz cake flour (bread flour)
3 tsp baking powder
1/4 tsp salt
1 tsp vanilla extract or powder
Process
Preheat to 375 deg. F.
Grease lamb cake mold very well with butter and coat with flour. This is a very crucial step. If that damn lamb doesn't pop out of the mold, the entire cake making has to be restarted and no one wants that.
Mix flour, salt, and baking powder three times to get everything evenly distributed . If you don't have cake flour, substitute 28 TBL of all purpose flour (do the math, its less), or you can measure out two cups and minus 4 TBL which ever is easier.
Cream the butter by slowly adding sugar to semi-soft butter in a mixer. You can use a hand mixer, but if you have a countertop mixer use that with the whisk attachment set on a low speed (e.g., 3). The goal is to make fluffy cream so don't let the butter get too soft of mix to long at too high a speed.
Mix in eggs and extract.
Add flour and milk in stages alternating between the two. Remember to mix on a low speed to keep the batter smooth and fluffy.
Pour half of the batter into the bottom half of the well greased and floured mold (i.e., face half). Lightly tap to get air pockets out. Next fill batter to top of mold.
Place well greased and floured top of mold on bottom section and then place assembled mold on a baking sheet.
Bake 40-45 minutes. At the 40 minute mark, remove from oven and test for doneness using a toothpick. If your mold does not have a vent hole, you'll have to gently remove the top mold to test.
If toothpick is clean, turn off oven and return cake to oven for 5 more minutes.
If toothpick is not clean, repeat steps 9 and 10 until it is.
Let cake cool, but only for a few minutes before removing pans. You want the molds to cool, but you don't want moisture building between the cake and mold. Remove the top first. You may have to tap the sides lightly with the back end of a butter knife. Don't beat too hard or you will dent the mold. You can also use the front of the knife to pry the top mold from the bottom mold. Once you get the top mold off, flip the bottom hold over with your free hand supporting the exposed back end of the lamb cake. Now gently try to coax the cake out of the mold. If it won't budge, gently work your knife around the mold to free the edges. Don't stick the knife in too far or you will cut into the cake. This is a fifty-fifty proposition at best. I remember my Mom being so happy when the lamb cake separated from the mold in one piece and crying when it didn't. The weakest part is the neck and head so be extra careful there. If your cake does bust up during extraction, it's not the end of the world, because God gave us frosting for repairs.
Once the cake is out of the molds, in whatever number of pieces you have. Cool it on a rack standing erect. If the cake is in one piece, you may have to smooth the base with a bread knife to get it to be flat. If the cake won't stand upright, lean it against something while it cools. It must be completely cooled before you frost.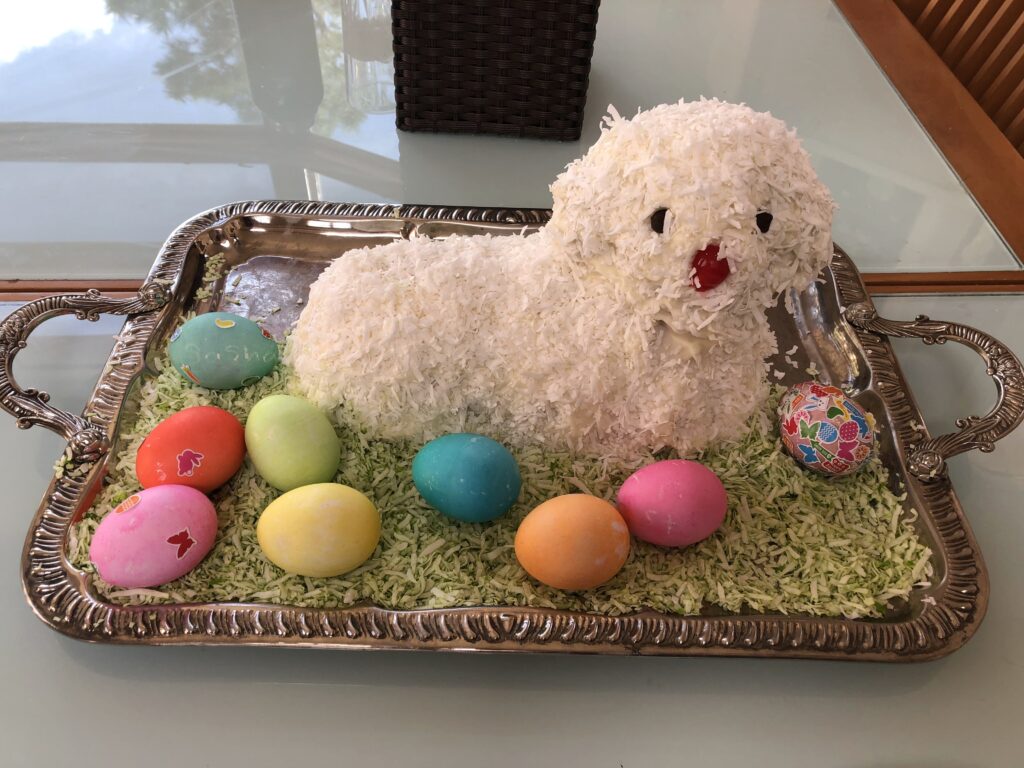 Frosting the Lamb Cake: I usually use either a butter cream or cream cheese frosting for my lamb cake. This year I'm going with an almond flavored cream cheese frosting. Once the lamb is frosted, he's sprinkled with coconut to give him a woolly look. From there, two chocolate chips are used for eyes and half of maraschino cherry is used for the noise. For presentation, I like to put some coconut in a baggie and add a little green food coloring. This becomes grass that the lamb cake sits on top of. From there I arrange colored Easter eggs to make a nice looking centerpiece for our Easter dinner.
Use a frosting knife to frost the cake. If you don't have one, use your smallest spatula or a butter knife. To start with, smear some frosting on the bottom of the cake to hold it on your plate. Place the cake on your presentation plate and start frosting. Once the lamb cake is frosted, use your hand to press fresh coconut into the frosting. I usually use unsweetened coconut because for me the frosting is sweet enough. Once frosted, add the chocolate eyes and cherry nose. Then spread your coconut around the plate and arrange colored eggs on the grass. Slice from the rear of the lamb cake saving the head for last.