A COVID Viral Challenge
I was board in quarantine today and found this viral COVID challenge on the internet. Since anything involving peanut butter is good, I figured why not give it a try. I made two versions of this recipe, one using whole milk and chunky peanut butter and another where I substituted almond milk and creamy peanut butter.
For a keto version of this recipe, use the almond milk and substitute an artificial sweetener for the sugar. I'd rather not tell you which one to use since there are passionate opinions on this subject. (hint, I use monk food when I bake Keto, less after-taste).
To all my professional foodies, I converted the original volume ingredient list to weight portions (in grams). Compared to the three day process of making French bread, this two hour bread is as easy as it gets.
Ingredients
2 cups all purpose flour (330g)
0.25 cups sugar (58g)
1.3 cups whole milk (300g)
0.5 cups peanut butter (145g)
4 tsp baking powder (16g)
0.5 tsp salt (4g)
Process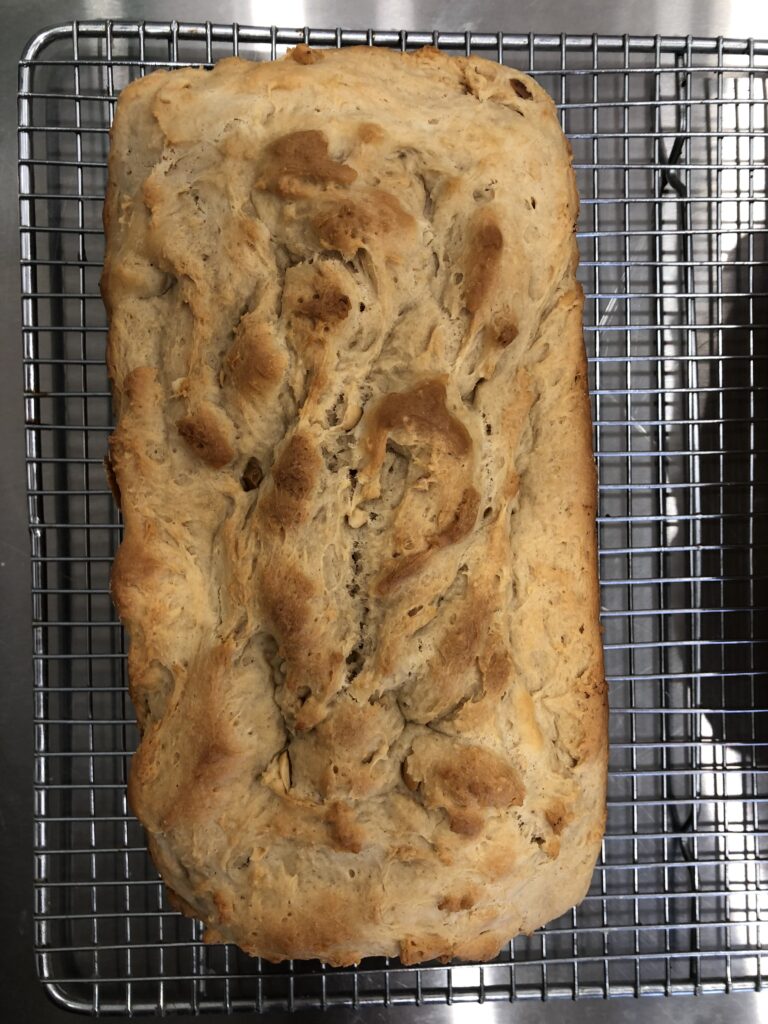 Preheat oven to 325 deg. F. (175 C)
Mix dry ingredients. I used a blade rather than dough hook. This is a runny dough and it gave me fewer clumps.
Add milk. The dough will be more runny than most bread doughs but that's part of the charm that makes it interesting.
Add peanut butter. I used chunky peanut butter for the whole milk version and creamy butter for the vegan version. No real rational other than I wanted to test the differences in texture.
Grease a baking loaf pan with butter and dust with flour.
Bake 1 hour.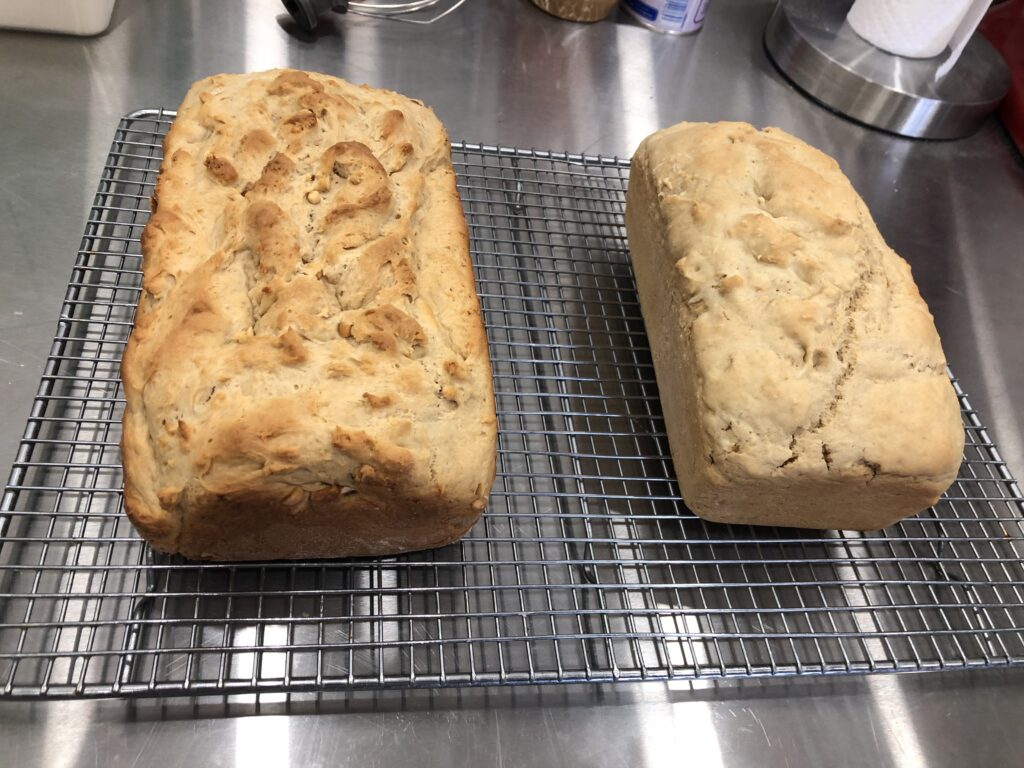 The loaf on the left was made using whole milk and chunky peanut butter while the loaf on the right was made using almond milk and creamy peanut butter. Notice that the whole milk version ended up larger and browned up nicely. Its larger appearance was due to trick photography, and because I used a larger loaf pan. As you can see from the photo of the two slices, the almond milk loaf is taller. The nice pentene on the whole milk loaf is due to the milk's butter fat. Note: For the high elevation, I took the loaves out of the oven 5 minutes early.
Critique: This was an easy bread to make and it tastes less sugary than peanut butter cookies. As expected, the almond milk/creamy peanut butter loaf turned our more dense with less texture. Like most breads made with baking powder, this one is a bit crumbly. Kids will love it and in a shout out to my brother-in-law Jon, serving this at the breakfast table eliminates the risk of an uninitiated guest scraping unused peanut butter back into the jar.